Competitor Research- how to find creative ideas for your next Facebook Ad.
Before you run ads on your website, it's vital you conduct a competitor analysis. This activity helps you improve your strategies and know what is working or not. It also helps you pay attention to the activities that makes your competitors facebook ad succesfull which in turn shapes yours. When you skip conducting research on your competitors, you might miss out on potential ideas that could grow your business.
Benefits of conducting competitors' research.
1 . It helps you know your competitor's strengths and what they are doing to achieve certain results.
2 . It helps you identify your competitor's weaknesses, gaps and opportunities you can take advantage of.
3. You can get new and better ideas for your social media content and ads.
If you are wondering how to conduct competitors' research, Want to know more about your competitors' Facebook ad campaigns?
Here are some of the most important ways you can use your competitors' ideas against them for a more successful digital campaign.
1 . Visit your competitors landing pages.
When you see competitors ad on Facebook, follow the ads. Click on the learn more or any call to action tab you see. Read up the content on the landing page. Take notice of your competitors' choice and structure of words, design and copy.
2 . View Your Competitors' Facebook Ads via Their Business Page or the Facebook Ad Library.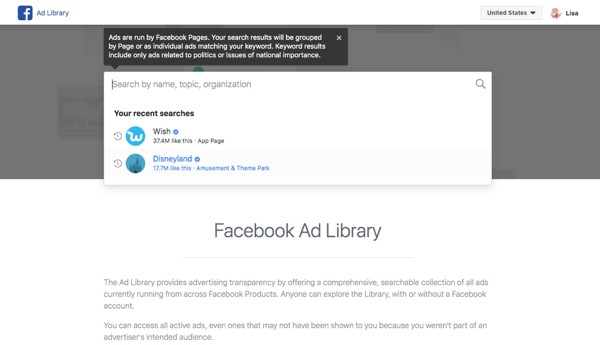 Facebook ads target insight can empower you with deep insights into another brand your target audience follows.  Using the ads transparency tool, you can view which ads a Facebook page is currently running.      This information will help you know your competitor's goals and the type of ad campaign they run.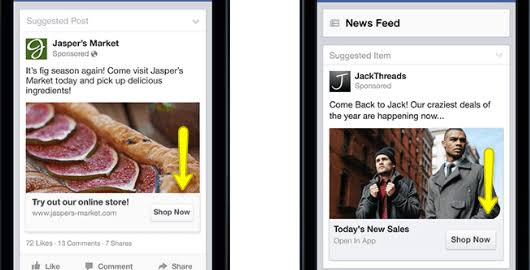 Look at the call to action in the ad above, you will know that their primary motive is to sell.  If a user clicks the Shop Now button, it will take him to the landing page. So in addition to looking for in-app purchases, Wish is targeting android and iOS users.
To see your competitors' ads, you can also open the Facebook page, and click on the search button to search for your competitors' names. Afterwards, click on the Page Transparency box in the right-hand navigation.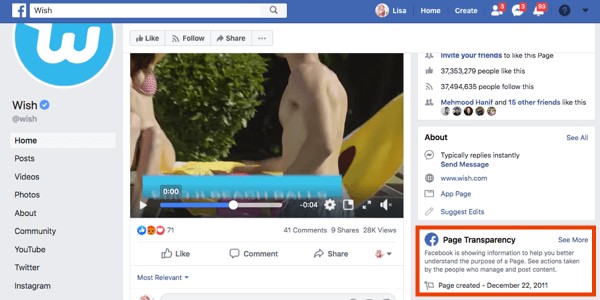 Click on View in Ad Library in the Ads From This Page box.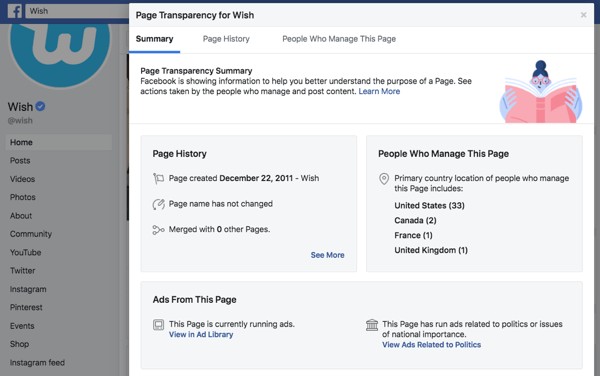 3 . Check out ads that pop up on your feed from your competitors and get Facebook Ad Targeting Insights With the "Why Am I Seeing This Ad?" option.
Whenever you see a competitor's ad on your feed, the best thing to do is to click on why are am I seeing this ad? Option. It provides you with additional information and insight into your competitor's targeting tactics. Here is an example
This is an ad for Semrush. From the image below, you can see that the reason why I'm seeing the ad is that I liked the page.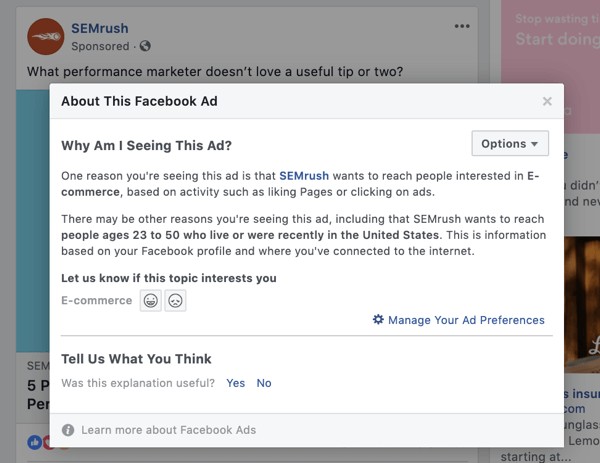 4. Check and analyze your Competitors' Top-Performing Facebook Content.
In addition to getting Facebook targeting insight why am I seeing this? Option and your competitor's business page, you need to analyze their top-performing organic content to get more insight on the type of content that performs well.
You can also check their community and comment section to get access to their customer's complaints. For instance, when you know that your competitors take 1 week to reply to your enquiries and order, you can use it to your advantage in writing your Facebook ad copy. 
We have talked about how to analyze your competitor's content. Here are tools that can help in content analysis.
These tools will enable you to discover everything that is being said about your brand and your competitors on Facebook and any other social media platform.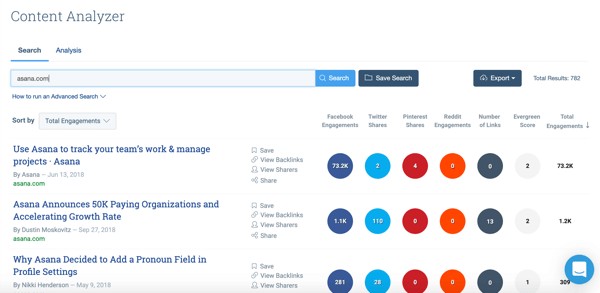 It helps you find your competitor's most shared content on Facebook. We also have others like
2. Hootsuite Stream
3. Brandwatch
4. Mentionlystic and many more
In conclusion, if you want to run a successful Facebook ad campaign, conducting a competitor's research gives you an edge.
What strategy do you find most valuable when conducting competitor research on Facebook ads?
Tell us in the comment section